Discover more from The Coffee Break
Get our free 3 minutes daily newsletter. Used by thousands of Malaysians to stay on top of local and global news. Stay informed with The Coffee Break.
Over 14,000 subscribers
☕️ The Cabinet Made in Tambun
Muhyiddin: cabinet lineup most disappointing in nation's history. Early-stage HIV vaccine breakthrough in 40 years. Leaked internal Kremlin polling data: major drop in support for the war in Ukraine.
Thousands of Malaysians enjoy our newsletter. Subscribe now and stay informed for FREE
1. MARKET SUMMARY
---
2. NUMBERS AT A GLANCE
RM28.5 mil — the amount owed by consumers in Kelantan to Syarikat Air Kelantan Sdn Bhd (AKSB) as of Sept 30, 2022. Domestic consumers owe the majority of it — RM18.4 mil.
Malaysians also feel the subdued cryptocurrency market as the average trading volume of digital assets is less than 1% of Bursa Malaysia's trading volume or RM16 mil on average per day. Will the four locally registered platforms survive the winter with little fees to be made?
CAD1,141,250 (~ RM3.7 mil) — the sale price of One of Andy Warhol's renowned portraits of the late Queen Elizabeth II, announced by Canada's Heffel Fine Art Auction House. Created in 1985, the silkscreen print of the late monarch is based on a photograph shot by Peter Grugeon at Windsor Castle in 1975.
---
3. IN MALAYSIA
🇲🇾
Anwar Ibrahim finally announced his cabinet
Here is the breakdown of PM Anwar's cabinet. Whether it breaks down or not, only time will tell. People have mixed feelings about the list of cabinet members of the new government. Some names who performed well in previous governments are left out, while some notorious leaders are in. Some have lost their fight in GE15 ((i.e. not the people's preference), yet they made it to the list. Well, people need to remember that this is a unity government, so some compromises had to be made - it's to optimise for stability and longevity of the government, with competency being secondary. The caricature by Art Saad below says a lot about the cabinet lineup.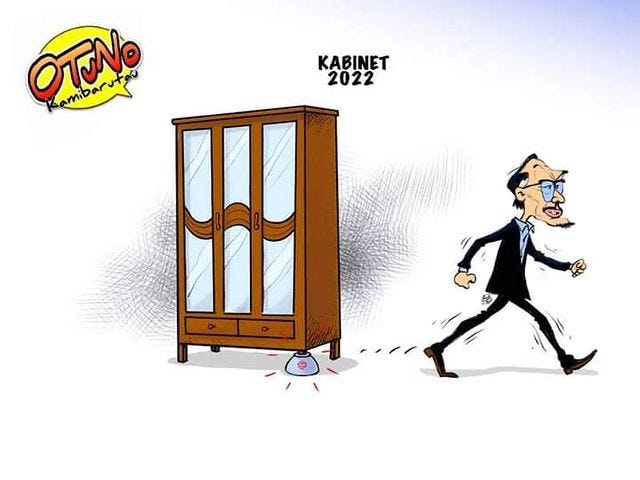 The irony is — seven years ago, Rafizi Ramli said the prime minister shouldn't hold the finance portfolio, even going as far as filing a bill to propose a new act to prevent this from happening. Anwar Ibrahim will oversee the Ministry of Finance in the cabinet.
The former PM Muhyiddin Yassin was quick to criticise the cabinet lineup, describing it as the most disappointing in the nation's history. Deputy PM Ahmad Zahid Hamidi hit back at Muhyiddin in a Facebook post, asking him and his allies to be a formidable opposition instead of complaining. Zahid Hamidi also complimented DAP in the same position. Yes, that happened.
Ibrahim Sani of Astro Awani wrote an excellent summary of the cabinet's structural changes in a thread of five tweets. Read here. TLDR — The number of ministers dropped (28 from 31), but the ministries increased (26 to 27), and several ministries' names were rebranded and shortened.
Other GE15-related news:
Unisex saloons now illegal in Terengganu
Saloons or barbershops operated by both Muslims and non-Muslims are only allowed to serve either male or female patrons, not both. If business operators are caught doing so, they can be fined between RM500 to RM1,000. Zuraida Md Noor (state representative) said some had voiced concerns about unisex saloons.
Just a couple of weeks ago, PAS secretary-general Takiyuddin Hassan assured the party would uphold the Islamic principle of "no compulsion in religion". #agedlikemilk. Terengganu local government, housing, health and environment committee chairman Alias Razak said the law isn't made by PAS but an existing licensing regulation under the local government — which PAS rules.
PM10's next challenge — Malaysia Agreement 1963
Sabah Chief Minister Hajiji Noor is confident that the federal government would fulfil its promise to negotiate, especially under the new "unity government" administration. Hajiji stressed that the state's 40% claim of the federal government's net revenue is still ongoing. Currently, the federal government pays an interim payment of RM125.6 mil annually to Sabah.
Teddy Teow of MBI to be deported to China
The Bangkok Post reported that Teow Wooi Huat (aka Teddy) of MBI International Sdn Bhd would be deported to China under an extradition request made to Thailand by Chinese authorities. Teddy was arrested in Dan Nok in July 2022 for allegedly laundering money from gambling operations in Southern Thai provinces. Apparently, Malaysia had not issued an arrest warrant for Teddy, despite the authorities having confiscated RM177 mil from Teddy's accounts that were linked to MBI International.
Business Shorts
ITMAX System Bhd, a company involved in the supply and installation and provision of public space networked systems, has announced its initial public offering (IPO) would be at RM1.07. The company said it expected to raise RM342.4 million from the IPO.

CIMB Bank Bhd will be implementing a mandatory SecureTAC authorisation for CIMB Clicks Web transactions of RM100 and above, including non-favourite fund transfers, bill payments and prepaid top-ups. In short, no more SMS TACs for certain transactions on CIMB. Customers will need to install CIMB Clicks App and approve the transactions on the app.
---
4. AROUND THE WORLD
🌎
Russia-Ukraine war updates:
Russian crude oil cap is on 

The 27-member bloc of the European Union has finally agreed to enforce a price cap of USD60 on Russian crude oil exports transported by sea, effective today. The price cap will be reviewed every two months and is set at least 5% below the market price of crude oil (crude oil is currently trading above the price cap). 

How is the price cap enforced? Importers of Russian oil below the price cap will maintain access to essential maritime services industry such as insurance, trade finance etc., which is 90% controlled by the G7 countries. These services are critical for the functioning of the complex transport of oil around the world. 

Russia's reaction: It rejects the price cap but falls short of announcing specific responses as it has to analyse the situation first. Moscow says it will not supply oil to countries that support the price caps. Russia's biggest buyers - India and China — they have not committed to the price caps. 

This price cap has been months in the working and weirdly, Russia has no specific response to it. It could have found a workaround to bypass these sanctions — the Financial Times reported that Russia has quietly added more than 100 ships of oil tankers, which the shipping industry refers to as Russia's "shadow fleet".

Leak Kremlin poll: plunging support for the war within Russia 

A leaked internal polling data commissioned by the Kremlin showed a major drop in support for the war from 57% in July to 25% in November. Forbes Ukraine reported that Russia had spent USD82 bil on the war so far — a quarter of its annual budget — with nothing to show for it. Russia's economy has plunged into a recession, suffered more than 100,000 casualties, and numerous battlefield setbacks and Ukraine regained approximately 55% of the territory earlier occupied by Russia.

Ukrainian embassies across Europe received blood-soaked "animal eyes"

Ukraine's Foreign Affairs Ministry reported that its embassies and consulates across Europe had received packages with blood-soaked "animal eyes", which it believes to be a "well-planned campaign of terror and intimidation". However, it did not directly blame any parties. This follows a wave of letter bombs, with one of them being received by the Ukrainian embassy in Madrid and exploding, causing minor injury to a staff. 

Difference between embassy vs consulate — in simple terms, an embassy is the HQ, whilst consulate(s) is the satellite office. 
The Philippines to set up sovereign wealth fund, 1MDB warned as an example
The Philippines' central bank governor Felipe Medalla has cautioned in a Bloomberg interview over a legislative proposal to create a 275 bil pesos (USD4.91 bil) sovereign wealth fund overseen by President Ferdinand 'Bongbong' Marcos Jr and raised concerns over transparency and governance of the SWF's management. Being a neighbour of Malaysia, he didn't miss the chance to cite the 1MDB scandal as an example.
Why the cause for concern? The Marcos family ruled the Philippines for 21 years, from 1965-1986. The regime was marked with widespread human rights violations and corruption, with an estimated USD10 bil stolen from the Filipino people. Now one of the Marcos is back in power. 
Read: Who is 'Bongbong' Marcos Jr and why are some Filipinos nervous about his family's return? 
Early-stage HIV vaccine showing positive results, potentially first successful HIV vaccine in 40 years
It has been 40 years since an HIV vaccine has been in the making, but It's notoriously difficult to vaccinate against the virus because it tends to mutate and avoid the immune system. During this period, more than 40 mil people have died from the virus.
An early trial for an experimental HIV vaccine has yielded promising results, as 97% of the recipients in the phase 1 trial showed immune system activity in response to the vaccine with no reported serious side effects. The result was published in the academic journal Science (read here) on 1 Dec 2022, in conjunction with World AIDS Day. 
Read: Why don't we have an HIV vaccine? 
Carousell laying off, Uber choose not to
Singapore's consumer-to-consumer (C2C) e-commerce platform Carousell is laying off 110 employees, or 10% of its total headcount. In the company's blog, CEO Quek Siu Rui explained that he "was too optimistic" over the post-Covid recovery and doubled down on recruitment and investment. Affected staff will receive at least three months' salary and be able to extend their medical benefits and insurance coverage until June 2023. Founded in 2012, the company has raised USD372.6 mil. 
Interestingly, for a loss-making company, Uber Technologies Inc CEO Dara Khowsrowshahi said that the company was not considering to cut jobs even as its competitors were slashing jobs. Back in 2020, at the height of the pandemic, the company dismissed more than 6,000 employees or about a quarter of its workforce.
---
5. FOR YOUR EYES 👁👁
Watch Anwar Ibrahim providing an objective answer to a geopolitically sensitive question. It's an old video, but still a good one.
Japan's highly controversial second goal that beat Spain and sent the Germans packing. Watch the goal in action here and FIFA showing the evidence here why it was allowed, although, from various angles, the ball seemed out of play.

Introducing our newly appointed Tourism Minister - Dato Seri Tiong King Sing. May his policy moves just as lit as his dance moves and take our tourism industry to greater heights.